Before we get into the DMK kits, we want to first talk about what DMK even is! DMK's mission for your skin is to remove, rebuild, protect & maintain by adjusting and increasing your skin's internal structure to receive maximum results. DMK achieves these results by utilizing live enzymes to oxygenate, detoxify, strengthen, nourish & tone your skin. Along with the enzyme treatments, DMK works synergistically with home products to get the maximum, long-term results for your skin to be the youthful glow we are all looking to achieve. There are three different DMK kits carefully crafted & cultivated to help with your specific skin goals: ACU System, Age Management & Pigment Balancing. Here at Face of Jules, after your first DMK Enzyme Treatment, you are sent home with a specific kit chosen for you by one of our skincare specialists. The kits usually last between 4-6 weeks & have instructions & breakdowns on each product in your kit and how & when to use them.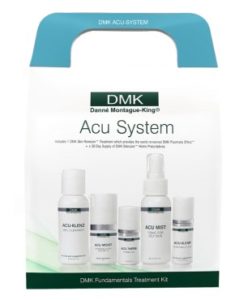 The ACU System Kit focuses on those of us who are struggling with active acne. The goal of the ACU System kit is to help balance your skin's oil production while also killing any bacteria that is causing your breakouts. These products have been specially formulated to penetrate deep into your pores to terminate & prevent any current or future breakouts. So, getting an enzyme treatment specifically designed for your skin & using these at-home products is the best way to combat acne in & out of the treatment room. The ACU System Kit includes the following products: ACU Klenz, ACU Klear, ACU Moist, ACU Mist & ACU Therm.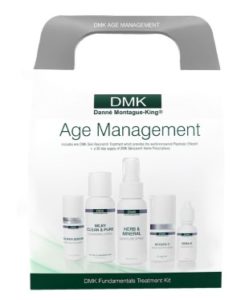 The Age Management Kit focuses on those of us who want to work on problems in our skin that are age-related such as minor pigmentation, sun damage, wrinkles & fine lines. These products are specifically designed to stimulate collagen production & epidermal growth factors to increase cell turnover. The Age Management Kit includes the following products: Pure & Milky Clean, Super Serum, SEBA-E Oil, Herb & Mineral spray & Biogen C with SPF.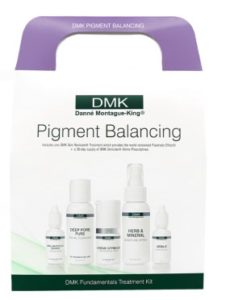 The Pigment Balancing Kit is a popular one that focuses on addressing passive & inflammatory pigmentation you may have. These products were carefully cultivated to reduce inflammation & quell melanin production (which causes hyperpigmentation). The Pigment Balancing Kit suppresses melanin on three levels: stopping melanin formation, inhibiting tyrosine & tyrosinase & regulated melanogenesis at the keratinocytes. The Pigment Balancing Kit includes the following products: Deep Pore Pure, Melanotech drops, SEBA-E Oil, Herb & Mineral Mist & Crème Citrique with SPF.
The benefit of purchasing one of these kits is that it not only includes a complete regimen but it is cost-effective. For those of us who want an entire at-home routine without breaking the bank, purchasing one of these kits is for you. They are a cost-effective, at-home solution to get started on meeting your skincare goals. For more information on DMK, feel free to reach us directly at (310) 770-8730 or visit their website at https://www.dannemking.com